Award Winning Technology

Latest Blog Posts
Advisors
General Michael V. Hayden (Ret)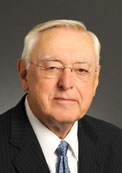 B.G. "Buddy" Beck
B.G. "Buddy" Beck is an industrial entrepreneur and business executive, scholar, public servant, inventor and technologist, has lived the "American dream".  In 1984 he founded the first of a number of successful companies, Atlantic Systems Research & Engineering (ASR&E). The company provided cutting-edge research and engineering services and solutions to government and private industry.  This was followed by several other ventures, and he currently serves on the board of ten other public and private companies and serves on a number of national security boards as well as various non-profit organizations. Currently, he is Vice Chairman of the Board for L-1 Identity Solutions. He was previously the Vice Chairman of the Board for Viisage and prior to that, he served as President and Chief Executive Officer of Trans Digital Technologies Corporation until its acquisition by Viisage. Mr. Beck currently serves as a consultant to Viisage and also serves as a member of the Boards of Directors of Cardinal Bankshares Corporation and L-3 Communications MAS (US) Corporation. He is also a member of the Army Science Board, and the Board of Visitors of George Mason University.
He is deeply involved with The Beck Foundation that has established research programs at a number of universities, among which the program for wounded veterans has been recognized for national awards and will improve the opportunities for all those that have given so much for America.
Buddy Beck was awarded Bachelor of Science Degree in Chemistry by Arkansas State University. He later earned a Master of Science Degree from the University of Southern California and was awarded a fellowship for Post Graduate Studies at the Brookings Institution in Washington, DC.

General Michael V. Hayden (Ret.)
General Michael V. Hayden, USAF (Ret.), served as Director of the Central Intelligence Agency and the National Security Agency and was the nation's first Principal Deputy Director of National Intelligence. He retired from the CIA in February 2009, and is now a Principal in the Chertoff Group, a security consultancy co-founded by former Secretary of Homeland Security, Michael Chertoff. General Hayden also serves as a Distinguished Visiting Professor at George Mason University School of Public Policy and in an advisory capacity to several organizations focused on national security.
General Hayden retired from a distinguished thirty-nine year career in the United States Air Force on July 1, 2008. In addition to his senior intelligence community assignments, he served as Commander of the Air Intelligence Agency, Director of the Joint Command and Control Warfare Center, and Chief of the Central Security Service.
General Hayden graduated from Duquesne University with a Bachelor's degree in history in 1967 and a Master's degree in modern American history in 1969. He was a distinguished graduate of the university's ROTC program, and began his active military service in 1969.
Stuart Malawer (Counsel)

Stuart Malawer is Distinguished Professor of Law and International Trade at George Mason University (School of Public Policy). He  holds a Ph.D. from the Dept. of International Relations at the University of Pennsylvania. He has a J.D. from the Cornell Law School and a Diploma from the Hague Academy of International Law (Research Center). He also studied at the Harvard Law School and St. Peter's College, Oxford University.
Dr Malawer is active in the Virginia State Bar. He was awarded the Hardy Cross Dillard Award by the Virginia State Bar and served as Chairman of the International Practice Section of the Virginia State Bar. He served as special editor of the international law issue of the Virginia Lawyer for over ten years.
Dr. Malawer recently published three books on national security law with an introduction by Senator Patrick Leahy, the World Trade Organization with an introduction by the former Director-General Mike Moore, and global trade and international law. He recently published an article entitled "Cyberwarfare: Law & Policy Proposals for U.S. & Global Governance."
Professor Malawer was a delegate on the Virginia Governor's trade missions to China, India and Japan. Professor Malawer was appointed by former Virginia Governor Tim Kaine to the Board of Directors of the Virginia Economic Development Partnership and serves on the Board of the VEDP International.
From 1990 - 1995, Professor Malawer served as the Director & Founder of the Graduate International Transactions Program at George Mason University (a master's program in international affairs with more than 400 students enrolled). He subsequently served as the Director of the Oxford Trade Program and the Oxford Global Law Program. The GMU Alumni Association named Professor Malawer the Distinguished Faculty Member of the Year. Alumni established The Malawer-Paden Founders' Scholarship that was formally announced by former Virginia Governor Gerald Baliles.
Arjun Malhotra
A pioneer of the Indian IT industry, Arjun has over 42 years of experience in the Technology and IT space with both private and public companies. Arjun was most recently Chairman and CEO of Headstrong where he led the turnaround and rejuvenation of that business. Under Arjun's leadership, Headstrong became the leader in consulting to the financial markets and was sold in 2011 to Genpact for over $500m.
Before Headstrong, Arjun was a co-Founder and Vice Chairman of the HCL group for 23 years where he oversaw their operations and new initiatives. He and the founding team grew HCL from a six person "garage operation" to one of India's largest Information Technology corporations that currently has over 90,000 employees and a market cap of over $8b.
Arjun started his career as a Senior Management Trainee at DCM in Delhi, India and was a key member of DCM Data Products that pioneered the digital electronics business in India. He studied at the Doon School, Dehradun, and the Indian Institute of Technology (IIT) Kharagpur. He graduated from IIT with a Bachelor of Technology (Honors) in Electronics and Electrical Communication Engineering and received the Dr. B C Roy Gold Medal. IIT Kharagpur conferred on him a Doctor of Science (Honoris Causa) in September 2012.

Roger Thornton
Roger Thornton's career has been dedicated to the development of technology and new business ventures based on technical innovation. Over 25 years in the Silicon Valley and abroad, he has driven the formation and growth of dozens of new companies and hundreds of products, serving in a wide range of roles from engineering, marketing, and management, to investor/advisor.
In 2002, Roger founded Fortify Software, convinced that information security required a fundamental shift in thinking – from a focus on the perimeter to a focus on the core – the software code itself. Incubated with acclaimed venture firm, Kleiner Perkins Caufield & Byers and recognized by Business 2.0 magazine as one of the Valley's "Smartest Start-Ups", Fortify represented a return, after the dotcom era, to the "old-school" style of classic Silicon Valley startup: successfully achieving product revenues within its first year of operations and launching three award-winning product lines through global distribution within three years of inception. Roger's passion and vision for software security was a catalyst that continues to shape the software security market and was the driving force behind Fortify's global leadership.
Roger earned his BS and MS degrees in Engineering with honors at San Jose State University. Roger continues his advisory work with select venture capital firms and start-up companies around the globe. He also regularly provides counsel and advice to corporate executives and government leaders on the topics of cyber-security policy and emerging trends.